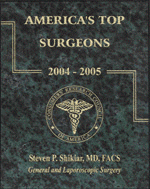 Dr. Steven P. Shikiar was born in New York City and raised in upstate New York. He received his undergraduate education at Brandeis University where he graduated with a Bachelor of Arts, Cum Laude in 1984.

He attended medical school at the Albert Einstein College of Medicine and received his medical degree in 1988.

Following five years of surgical residency training at New York Medical College, Westchester County Medical Center, he started General Surgery Practice of Northern New Jersey, PC. He currently holds full admitting and operating privileges at Holy Name Hospital, Palisades General Hospital, St. Mary's Hospital in Hoboken and Bergen Regional Medical Center.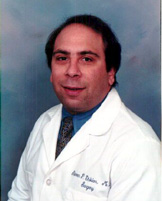 Dr. Shikiar received his board certification in 1994 and became a Fellow of the American College of Surgeons in 1998. He maintains offices in West New York and in Englewood, New Jersey.
Though Dr. Shikiar has comprehensive training in all aspects of General Surgery, he has a special interest in the application of minimally invasive techniques in the provision of surgical care. To this end he trains continuously in the most recent innovations to apply these minimally invasive alternatives to the treatment of the most common surgical problems.
Dr. Shikiar is the President of the Hudson County Medical Society for 2004 - 2005 and as well serves on the Board of Trustees of the Medical Society of New Jersey.
Dr. Shikiar is an avid skier, scuba diver and cyclist and would gladly invite you to join him in any of the above.